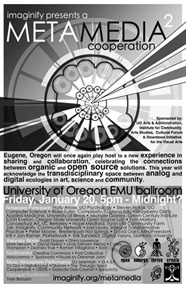 | EMU Ballroom, University of Oregon. Eugene, Oregon | 100 participants
An experience in sharing and collaboration, celebrating the connections between open source & organic solutions in art, science and community. This year it acknowledged the transdisciplinary space between analog and digital ecologies. From the organic to the cybernetic, from the earth to the internet....
http://www.imaginify.org/metamedia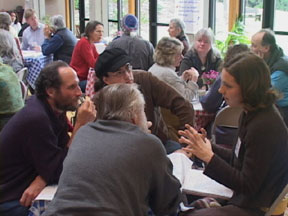 | Chinook Center of the Whidbey Institute, Whidbey Island, Washington State | 85 participants
"Catalyzing Collective Intelligence and Social Creativity" How do we understand, interpret, apply, and communicate the evolutionary worldview offered by mainstream and emerging sciences, and harness the collective intelligence and social creativity of our species, to facilitate a positive impact on the evolution of humanity and the natural world?
http://www.thegreatstory.org/ev-salon.html


| JCC, San Francisco, CA | 60 participants
The Symposium explores the link between three of humanity's most critical concerns: environmental sustainability, social justice and spiritual fulfillment. Using video clips from some of the world's most respected thinkers, along with inspiring short films, leading edge information and dynamic group interactions, the Symposium allows participants to gain a new insight into the very nature of our time and the opportunity we have to shape and impact the direction of our world with our everyday choices and actions. To learn more about the symposium click here...
http://www.awakeningthedreamer.org/


| Hunter-Liggett, California | 35 participants
PURPOSE: To generate breakthroughs in our understandings of evolutionary directionality and emergent complexity and to apply these insights individually and collectively in ways that further human fulfillment and the thrival of all life.
http://www.thegreatstory.org/ev-salon.html