A frequently updated and diverse selection of inspiring and beautiful animations and video clips to stream and download.

To see selections click on the Multi Media subjects in the left column - and then click on the small images there. After the one you selected appears in a larger size in the right column click on the "Play" button.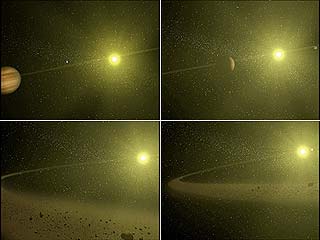 <
This animation portrays an artist's concept of a distant hypothetical solar system, about the same age as our own. It begins close to the star, and then moves out past a number of planets. Though "extrasolar" planets are too small to be seen with telescopes, astronomers have detected more than 100 gas giants like Jupiter via their gravitational tug on their parent stars. The view pulls back to reveal the outer fringes of the system and a ring of dusty debris that circles the star. This debris is all that remains of the planet-forming disk from which the planets evolved. Planets are formed when dusty material in a large disk surrounding a young star clumps together. Leftover material is eventually blown out by solar wind or pushed out by gravitational interactions with planets. Billions of years later, only an outer disk of debris remains.